Description:
E103-W02DTU is a UART-WIFI server supporting RS232/RS485 to WIFI two-way transparent transmission. It enables the UART device to immediately have TCP/IP network interface function, which extends the operation range of the device.
E103-W02DTU is developed based on the TICC3200, users could select RS232 or RS485 interface to communicate. This UART server is a transparent transmission server for network access through UART by AT command.
E103-W02DTU supports standard IEEE802.11b/g/n protocol and complete TCP/IP protocol stack, supports STA/AP mode, supports Smart Config, UART transparent transmission, transparent transmission on power-up, etc. Network connection can be achieved after easy configuration.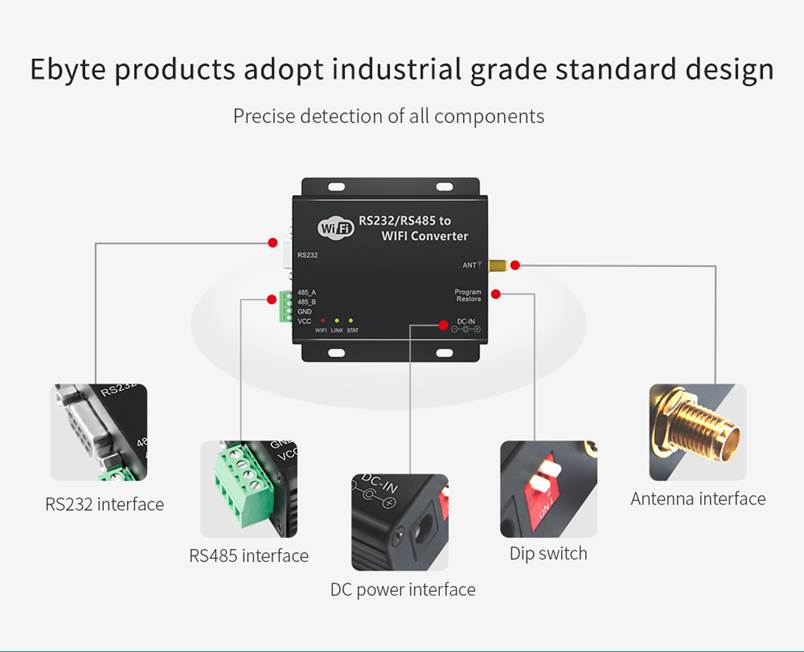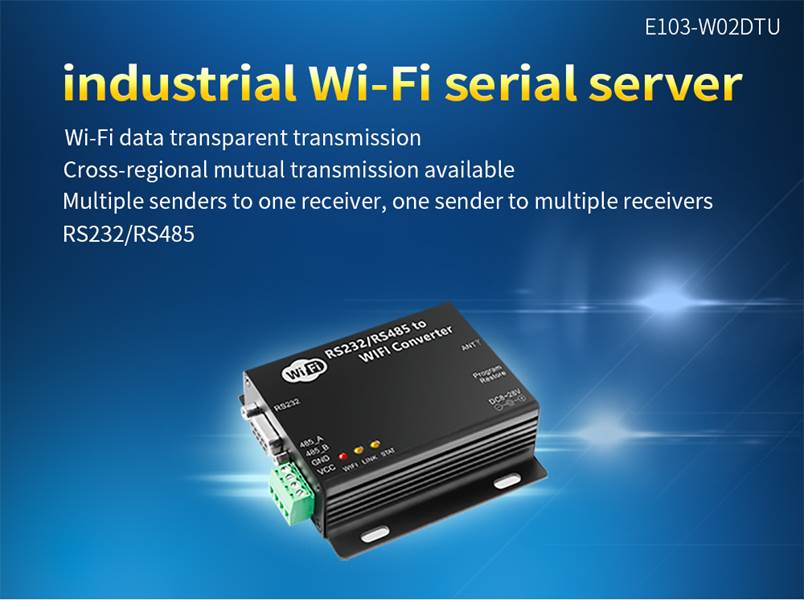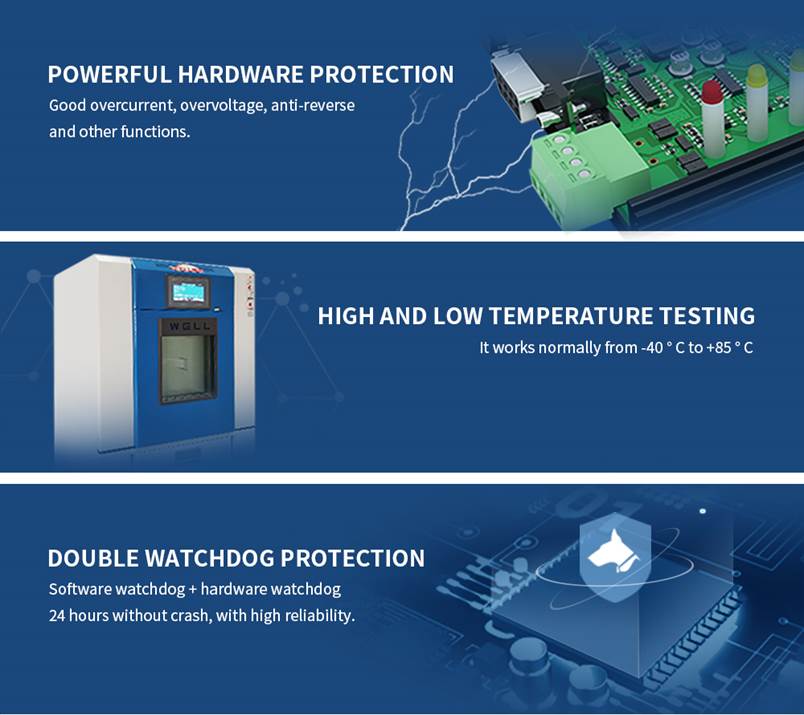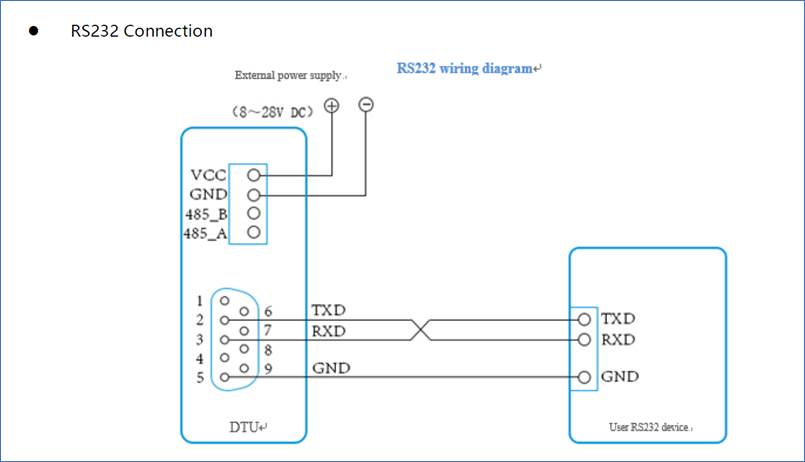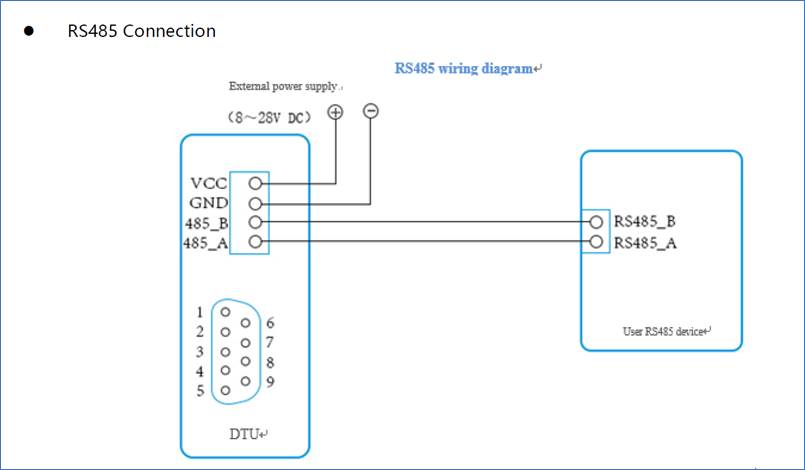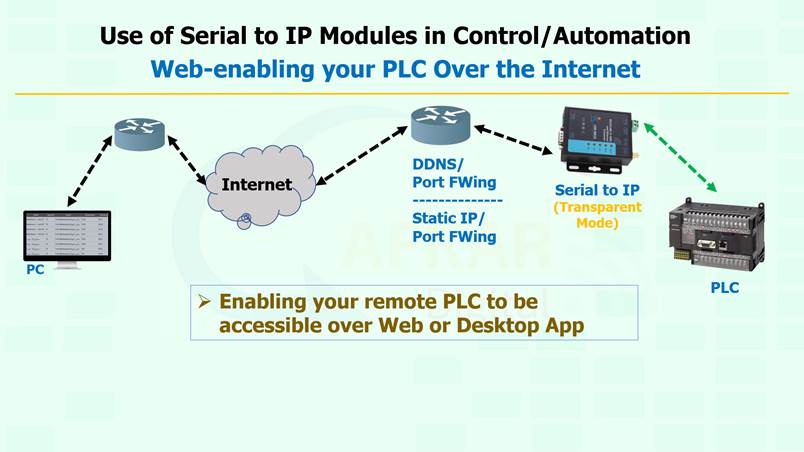 | | |
| --- | --- |
| Item | Description |
| Multiple interfaces | It supports both RS232 and RS485 |
| Configuration through webpage | The user can access the server through webpage to read and configure the parameters |
| Transparent transmission on power-up | The server can automatically connect to WIFI network upon power-up and connect with target server with transport protocol. |
| Automatic reconnect | In STATION mode, the server will automatically reconnect the lost connection. |
| SmartConfig | The user can use SmartConfig to connect network and configure the server quickly. |
| Remote AT command | The module supports remote AT command for easily configuring parameters. |
Features:
Serial to WIFI Communication
Transparent transmission
Modes of Operations: TCP server, TCP Client, UDP Server, UDP Client
Supports AP and STATION modes (one mode at a time)
Electrical Parameter No.

Item

Parameter details

Description

System parameters

1

RF IC

CC3200

TI

2

RAM

256KB

3

Flash

8Mbit

Winbond

WIFI parameters

4

WIFI version

802.11 b/g/n

-

5

Frequency band

2.412~2.484 GHz

-

6

Modulation system

OFDM/DSSS

-

7

Transmitting power

20dBm

100mW

8

Operation range

About 300m

Test condition: clear and open area, antenna gain: 3dBi,height: 2m

9

Working mode

AP/STA

It supports AP and STATION modes

10

Encryption method

WEP/WPA2

-

11

Configuring method

AT/UDP/HTTP

It supports AT command, remote UDP AT command, HTTP webpage to configure the server.

Basic parameters

12

Housing

Aluminum alloy

Black

13

Connector

RS485: 1*4*3.81mm

RS232: DB9

Screwing

Standard DB9 hole

14

Antenna type

SMA-K

External thread and internal hole,

50Ωcharacteristic impedance

15

Interface

RS232/RS485

Both RS232 and RS485

16

UART baud rate

300 ~ 400000 bps

It supports multiple bits, parity bit, stop bit default: 115200, 8N1)

17

Supply voltage

8 ~ 28V DC

Power adaptor or wire-pressing terminal VCC/GND (optional)

Note: the voltage higher than 28V is forbidden

18

Transmitting current

77mA

12Vpower supply

19

Size

82 * 62 *25mm

Without antenna

20

Average weight

130g

Without antenna

Temperature& humidity

21

Operating temperature

-40 ~ +85℃

-

22

Operating humidity

10% ~ 90%

Relative humidity, no condensation

23

Storage temperature

-40 ~ +85℃

-