Description:
Power consumption meter with built-in WIFI antenna operating in 2.4 GHz band. The device is fully compatible with Tuya Smart application, which allows you to remotely start or disable circuits of your home electrical installation using your smartphone. The meter has a built-in display that informs about the current current consumption parameters. The WiFi meter is mounted on a standard 35 mm DIN rail in the fuse box. The maximum value of the current flowing through ZMAi-90 is 60 A.
The ZMAi-90 meter is part of the Tuya home automation system, controlled by a dedicated Tuya Smart application. The Tuya software allows you to create your own schedules or use ready-made scenarios. It also allows you to save read data and create power consumption charts. Tuya ZMAi-90 is compatible with the most popular voice assistants: Google Home and Amazon Alexa.
Note:
The following current consumption information can be displayed on the ZMAi-90 built-inLCD display:
Current current consumption (I)
Current power consumption (P)
Current supply voltage (V)
Current energy consumption (kWh)
Features:
Meter connection diagram
The ZMAi-90 is mounted ona standard DIN rail ina switch box. It is connected to the fuse that is responsible for switching off the respective electrical circuit. Output description:
L

- power supply 230 V phase wire.

N

- power supply, neutral wire - ground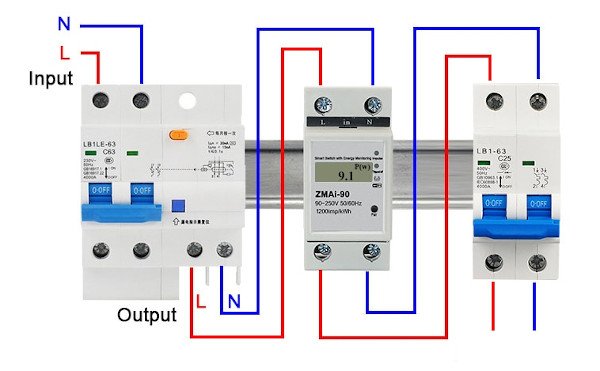 Wiring diagram of the WiFi wattmeter.
Specification of the WiFi electricity meter
Supply voltage: 85 V to 265 V AC / 50 Hz to 60 Hz
Maximum current: 60 A
The WiFi band: 2.4 GHz
WiFi range: up to 30 m
Operating temperature: 0°C to 50°C
Colour: grey
Dimensions: 66 x 78 x 35 mm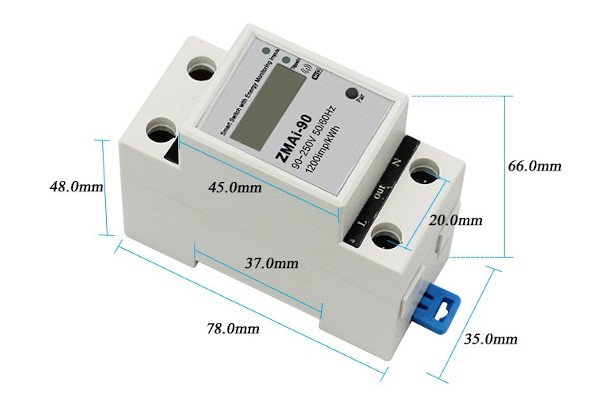 Dimensions of the ZMAi-90 WiFi wattmeter.
Set contents
Electricity consumption meter ZMAi-90
Clip for mounting on a DIN rail
Kit include:
1 x Electricity consumption meter ZMAi-90
1 x Clip for mounting on a DIN rail