Description:
Sonoff 4CH R3 is a 4-band rail mount switch.
Support connecting and controlling 4 electrical appliances , which can be turned on / off separately
via the buttons or the EweLink app, transform your smart home with your DIY ideas.
With the EweLink app, you can turn on / off from anywhere anytime and anytime
you can set single / repeat / countdown programs to turn on / off in a moment
specific and share with others so they can check together.
Quick access to 3 working modes
Compared with 4CHPROR2, you can directly enter the self-locking, interlocking and inching mode on the APP.
The new improvement on 4CHR3 and 4CHPROR3 over 4CHPR2 and 4CHPROR2 is for users to set these 3 working mode on the eWeLink APP instead of the hardware itself, easier to use.
Manage 4 devices separately - Self- locking mode
They allow you to switch 4 connected devices on or off independently.
Automate multiple devices - Interlock mode
One channel check a working status, enable interlock to turn on 1 channel and turn off other channels at the same time.
It stays on for a while, then turns off automatically - Pulse mode
Don't want to stay in the dark in your home?
Enable pulse mode to set a "on" schedule for your hallway light and yes
it will turn off automatically after reaching the preset time.
Voice controls your home
Compatible with Alexa and Google Home. Do you want to turn off the light immediately? Just tell him what to do.
Simply activate the devices by voice when the switch works with Alexa and the Google Home smart assistant.
Safety comes first
The durable fireproof PC shell provides maximum security for connected devices in use.
The housing is supported for rail mounting!
Standard type metal rail widely used for assembly of circuit breakers and industrial control equipment inside the equipment racks.
| | |
| --- | --- |
| Technical features | |
| Template | 4CHR3 |
| Maximum load | 10A / channel 16A / total |
| Diet | 100-240V AC 50 / 60Hz 16A Max |
| Output | 100-240V AC 50 / 60Hz |
| Number of contacts | 4 |
| Wifi | IEEE 802.11 b / g / n 2.4GHz |
| Material | PC V0 |
| Dimensions | 145x90x34 mm |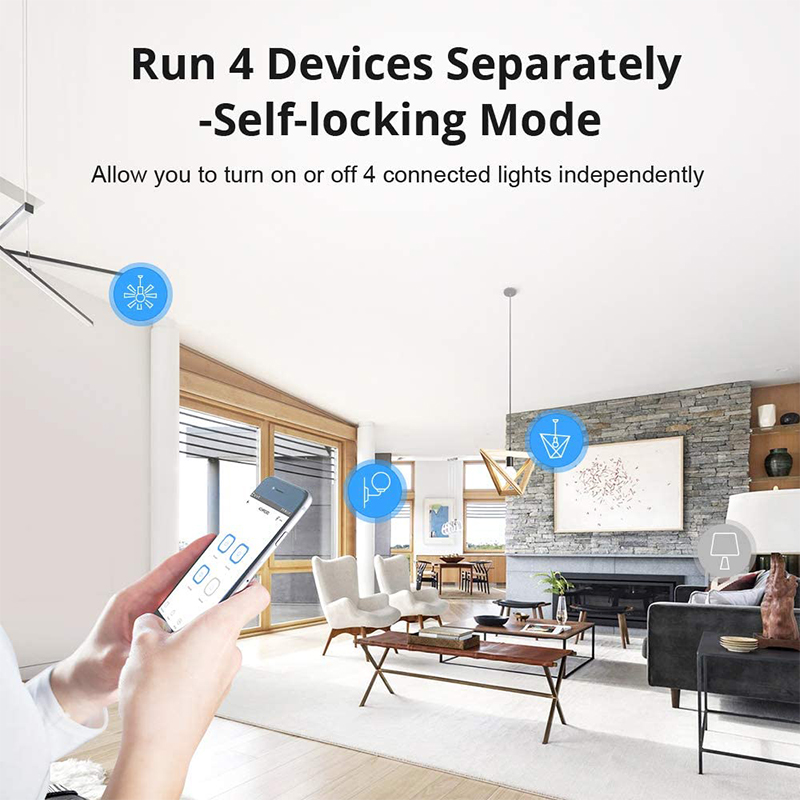 Features:
- Remotely control lights or devices via APP

- 3 working modes with self-locking, interlock and inching modes also for remote controlled garage doors and roller blinds
- Supports programming a timer to automatically start and stop devices operation
- Customize smart scenes to make the device connected to the switch to activate other devices
- Share device control permission with other accounts
- Check real-time ON / OFF status of devices on your mobile
- Power on state allows users to set the On / Off / Keep state for the connected device before power failure and make sure it remains the established state after power is restored
Kit include:
1 x Sonoff 4 Gang
1 x Manual